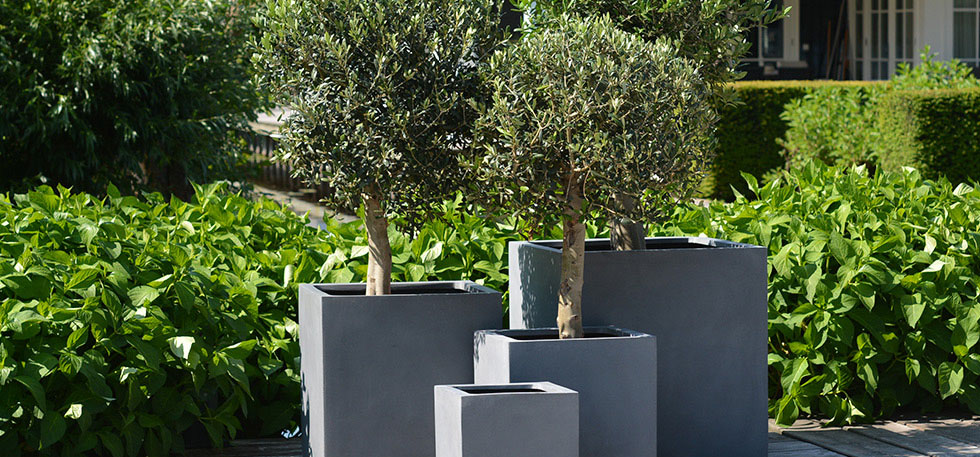 Vase The World is a wholesaler, specialized in large and small sized pots, lightweight, for indoor and outdoor use, and with an exclusive look. In the Vase The World webshop we are pleased to present our collection of exclusive pottery. You will find many tasteful pots and vases that we have imported directly for you from the most beautiful parts of the world.
Wholesale exclusive pottery
In 2008 Vase The World began as a wholesaler of exclusive designer pottery for indoors and outdoors. Since then we have grown to become a successful business with a reputation as market leader and with a regular customer base which is growing each year. This is thanks to the high grade quality which Vase The World delivers, combined with the high level of service and personal commitment. Vase The World works exclusively with manufacturers who satisfy our stringent quality requirements. Vase The World distinguishes itself by being innovative and creative with, amongst other things, products which are designed in-house. Our main customers are indoor plant specialists, hydroculturalists, garden centres, (exclusive) florists, designers and horticulturalists. We are to be found at various trade fairs, such as TrendZ Gorinchem, IPM Essen, Ambiente Frankfurt and Maison & Objet Paris.
Our pottery collection
Our collection consists mainly of (Glossy) Fiberstone products, Ceramics and Glass. In addition to a basic selection, we also have many own designs that are not available anywhere else. You As an online wholesaler, Vasetheworld.nl is open 24 hours a day, seven days a week. You can visit the site to take a look at our extensive selection of high grade flowerpots and containers for plants. Have you registered? Then with just a few clicks of the mouse you can make your purchases, look at prices, and see what we have in stock. You can register here, after which we will send you a password in order to be able to use our web shop. You can also look at the catalogue online. Be inspired by the beautiful things that Vase The World has on offer. Because we import direct, and do not have an expensive showroom, we can save on costs. And that works to your advantage! Just take a look at the attractive, competitive prices. Because we work together with a variety of logistics partners, we are able to deliver quickly.
Questions or advice?
Are you curious to know what the plant containers, plant pots, terrace furniture and decorative articles actually look like? We will be pleased to talk with you over the phone about making an appointment with you, without commitment, if you would like personal advice. We would be pleased to visit you with our showroom bus and naturally you are also welcome to visit our showroom at Aalsmeer, Lakenblekerstraat 24C. During the week we are available from 09.00 to 18.00 for telephone contact, via 0297- 342003 or send us a message. We would be very pleased to meet you in order to work with you to put together the collection you would like for your business. We look forward to working together successfully! Vase The World sells exclusively to businesses in our sector. Are you a private individual? Then naturally we will be happy to refer you to the closest sales points.
Vase The World
Postbus 30, 1430 AA, Aalsmeer, Nederland
Showroom and Cash&Carry: Lakenblekerstraat 24C, 1431 GG, Nederland
T +31 297342003 | +31 620756806
BTWnr: NL 8560.84.360.B01
KvKnr: 65370309
Opening hours: Monday to Thursday 08:00 to 17:30 o'clock, Friday 08:00 to 15:00 o'clock.