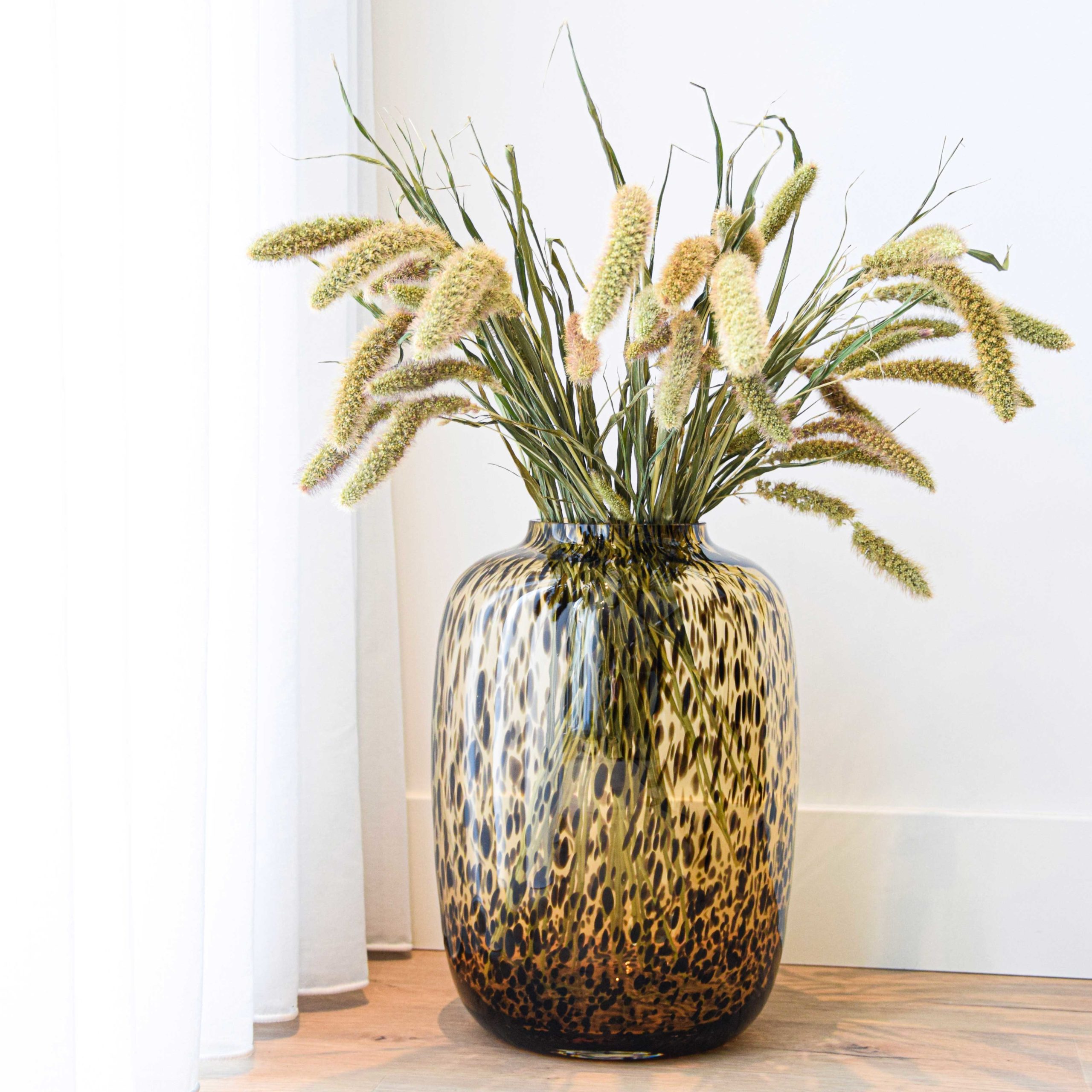 The Cheetah glass collection from Vase The World consists of a line of mouth-blown vases and tealight holders. The Cheetah vase is partly made from recycled glass. Sustainable, manual, innovative and environmentally conscious.
Glass mouth blowing is a time-consuming and fascinating process. The sphere of the glass is heated with the aid of a burner. As soon as the glass is warm enough, the glass blowing starts. With the mouth, air is blown into the sphere and the sphere is shaped. Every shape is conceivable. During the blowing glass fragments and splinters are added to the sphere. The glass splinters and fragments form the cheetah-like spots on the vase. So actually glass-in-glass. This glass gets, as it were, a second life in the Cheetah vases. Each vase is unique. Every color possible. Mouth blown on European soil.
The unique handmade and recycled character of the Cheetah collection fits perfectly with Vase The World. With an eye for sustainability, quality and innovation, Vase The World is always looking for special collections. With the Cheetah glass collection, Vase The World has once again succeeded in bringing in a sustainable, unique and innovative line.
The Cheetah vase is not only an eye catcher for a beautiful bouquet. The vase itself is also a true eye-catcher. Dried flowers, branches or reed panicles enhance the natural and sustainable appearance of the Cheetah vase.
The Cheetah glass collection is available in various sizes. Each vase is unique. Every vase is different. View the entire glass collection in various colors here or on Instagram.